When patients search for leading non-surgical treatments to tighten and lift the skin, two notable procedures often crop up on people's beauty radar: Thermage®CPT and Ultherapy®. Both treatments deliver skin tightening and skin lifting benefits without the need for invasive surgery or downtime.
However, on closer inspection, there is a range of significant differences between the two. These range from which areas they treat, to which technologies they use to enhance sagging, aged or wrinkled skin. In this article, we explore these similarities and differences to help you decide which one to pick when it comes to Thermage versus Ultherapy. Here is our detailed comparison:
Skin Lifting and Tightening with Thermage and Ultherapy
Thermage and Ultherapy are two leading non-surgical technologies. As two of the world's best skin tightening and lifting treatments, they give patients the ability to lift and tighten sagging or loose skin across the body while smoothing the skin's texture and strength, without the need for any injections, surgery or scalpels. This means zero downtime or recovery. The treatments have also both received an official seal of approval from the FDA for their clinically proven results.
Benefits of Thermage and Ultherapy
Both treatments are one of the most popular anti-ageing procedures. Traditionally, a surgical facelift was the go-to solution. But thanks to smart innovations in skincare technology, Ultherapy and Thermage can tackle the symptoms of ageing head-on, without the arduous recovery time of plastic surgery.
As we age, our skin gradually loses its ability to reproduce collagen and elastin proteins. These two essential structural proteins are crucial components that connect our inner skin tissues. They help to keep them taut, hydrated and firm. But after the age of 20, we lose elastin and collagen at a rate of 1% per year. This means that by the time we hit our 30s and 40s, our skin is on a downward natural path towards wrinkles, looseness, sagging.
Thankfully, these procedures stimulate the production of collagen and elastin over time to give us tighter and firmer skin that is youthfully remodelled. Their dual benefits are outlined below:
Minimally invasive treatments
Reduces signs of wrinkles
Boosts natural collagen and elastin production
Lifts sagging and drooping skin
Improves skin texture
Smooths out fine lines and wrinkles
No injections, needles or surgical procedures needed
Instant recovery
No downtime needed
Long-lasting results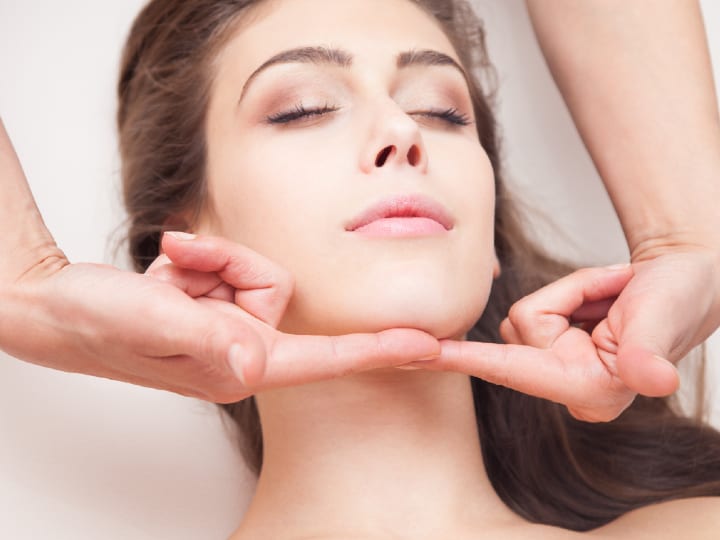 Thermage Vs Ultherapy: What do they do?
While the two treatments stimulate the natural reproduction of collagen to tighten and lift the skin, they do so using different technologies. Both technologies use heat energy as a way to encourage our skin cells to replenish and remodel. Whereas Ultherapy utilises ultrasound heat to stimulate collagen renewal deep within the skin, Thermage uses radiofrequency energy to kickstart collagen production in superficial skin layers. The primary goal of each technique is slightly different, but collagen renewal is their simultaneous raison d'etre.
The purpose of each treatment
Thermage: contours, lifts and smooths skin. while working on superficial skin layers
Thermage tightens and re-contours the skin using radiofrequency (RF) energy. It has become a firm favourite with celebrities like Gwyneth Paltrow thanks to its ability to create flawlessly understated results that refresh, lift and tighten the skin. The radiofrequency heat that Thermage delivers works to three-dimensionally contract existing collagen proteins. At the very same time, it stimulates new ones to form. This collagen rejuvenation process makes Thermage a game-changing treatment when it comes to lifting the structure of sagging skin across the body, while also enhancing the visual texture and appearance of wrinkled and crepey skin. It can even smooth out the appearance of cellulite!
Ultherapy: strengthens and lifts skin layers from deep within
Ultherapy uses cutting-edge ultrasound technology to strengthen and lift the skin from deep inside. It utilises micro-focused ultrasound with visualisation (MFU-V) energy to reach the same depths that plastic surgeons can reach when they perform a surgical facelift. This has made Ultherapy the go-to treatment for patients who require a non-surgical facelift without any side effects or downtime. By heating deep skin tissues with ultrasound, the skin responds by reproducing fresh collagen stores over time. This helps patients to achieve tighter skin that withstands the downward effects of gravity while keeping the skin toned, firm and youthful. Use it across the face, neck and decolletage to revitalise and uplift the skin.
Thermage Vs Ultherapy: How do they work?
Radiofrequency and ultrasound energies work in slightly different ways to reboot and encourage collagen production in our skin.
Thermage: Radiofrequency (RF) energy
Using a highly advanced radiofrequency laser, Thermage uses a smooth-tip handpiece to instantly heat up the dermis layer of the skin to 40-55 degrees Celsius. This stimulating heat energy contracts collagen proteins in a three-dimensional way within the collagen-rich dermis layer of the skin. This heat energy refreshes the skin in the same way as a deep skin chemical peel, but without damaging the outer epidermis. The RF heat energy also accelerates the regeneration of damaged skin cells, which is why Thermage is so effective at revitalising and smoothing crepey 'orange peel' skin and cellulite.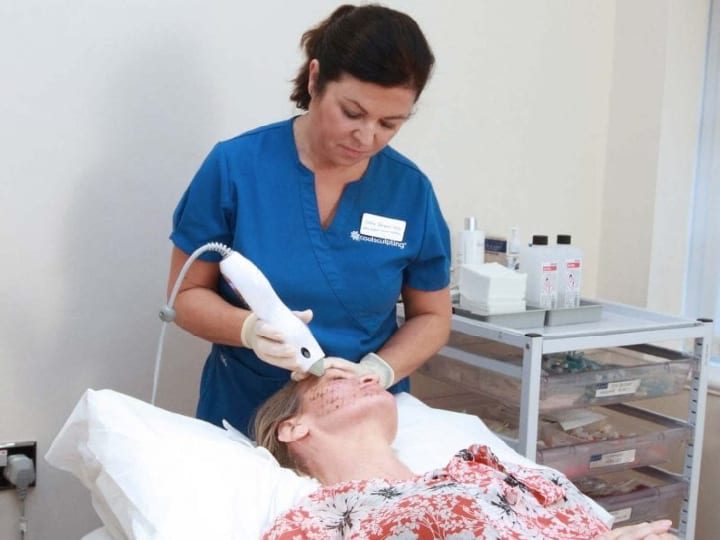 Ultherapy: Ultrasound (MFU-V) energy
Ultherapy uses highly targeted micro-focused ultrasound energy to stimulate collagen renewal in the deepest layer of the skin, called the SMAS layer. This unique process creates a momentary heatwave in the targeted treatment area by transmitting high-intensity frequency ultrasound waves. The Ultherapy device instantly heats up skin to 60-70 degrees Celsius, resulting in the regeneration of collagen and elastin proteins. The technology also utilises 3D visualisation, giving practitioners the ability to visually detect depleted areas of collagen in the SMAS layer with their own eyes. This facilitates a highly targeted and accurate skin regeneration treatment.
Thermage Vs Ultherapy: How deep do they penetrate the skin?
Thermage – the dermis to the subcutaneous fat layer
A Thermage treatment only penetrates into shallower areas of skin tissues, from the dermis, just below the surface of the skin, to the layer of subcutaneous fat tissues. However, it covers a wider area of the body and delivers a greater volume of energy in one session when compared to Ultherapy.
Ultherapy – deep penetration to the SMAS layer
Ultrasound stimulates deeper layers of skin tissue, enabling it to reach the fibromuscular layer or 'SMAS' layer that sits just above a person's muscle tissue. This layer of skin becomes thinner as we age, allowing wrinkles and sagging skin to form. The technology, therefore, penetrates deeper than Thermage and is able to target multiple layers of the skin for a longer-lasting effect.